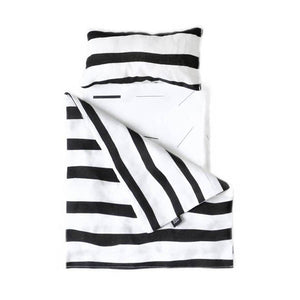 Ooh Noo Toy Pram Bedding - Zebra
Regular price €28,00 On Sale
Doll's bedding "Zebra" by Ooh Noo.
Wonderful doll's bedding for your little one her dolls with a simple monochrome print of stripes on a white background. The bedding includes a padded bed cushion, a bed cover and matching pillow. Beautiful design, high quality and specially designed for that dreamy doll pram we all want.
Product details:
Size: Mattress 23 x 31cm, cushion 23 x 12cm and duvet cover 28 x 32cm.
Material: 50% Flax linen and 50% cotton.
Manufactured in the EU.
Especially designed for the Ooh Noo Toy Pram.
All products of Ooh Noo are designed and created with love and traditional craftsmanship, featuring original artwork, created especially for the Ooh Noo collection by a team of own designers. When it comes to children, they don't compromise: everything is hand-made exclusively out of pure old-world materials.