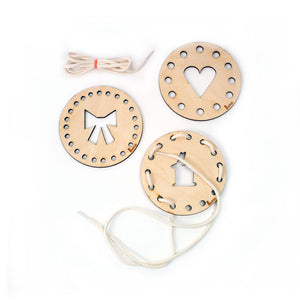 &me Sewing Forms
Regular price €19,00 €19,00 On Sale
This sewing forms set is super fun to play with!
With this wooden set of three different laser cut sewing discs, toddlers and older kids will enjoy using their fine motor skills by stitching the accompanying cotton string through the loops of the wooden forms. The discs each have a different level of difficulty and kids will enjoy challenging their hand-eye coordination.
Each set comes in a lovely draw-string canvas bag.
Product details:
Age: 11m+.
Siz: Ø e12cm.
Material: Laser cut FSC wood and 2 white cords.
Handmade in the Netherlands.