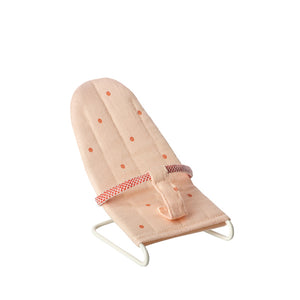 Maileg Baby Sitter – Micro
Regular price €10,00 €10,00 On Sale
The baby bouncer is just one of many adorable accessories from the Maileg range.
This cute as a button accessory is the Maileg micro baby bouncer, perfect for settling the micro baby rabbits when they need to have a nap or to give mummy rabbit's arms a rest while she hangs out the washing. It has a lovely dot fabric and fits the MICRO sized rabbits, mice twin babies and sleepy wakey mouse!
Maileg are constantly adding to the furniture range available each season, so there are always new pieces to find to add to your collection. These pieces are wonderful accessories to help promote imaginative play and role playing.
Product details:
Age: 3 year +.
Size: 14 x 8cm ( l x w ).
Material: Metal and fabric.
Maileg is a Danish brand established in 1999 by Dorthe & Erik Mailil. Maileg is a world in which matchboxes can be beds for mice; princesses make perfect teatime companions; and adventures can be found on a friendly forest walk. It is a world where cats and mice are friends. Maileg is a world of childhood imagination - and this is a world we value.