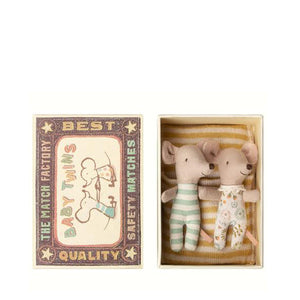 Maileg Baby Mice Twins in Box
Regular price €28,00 €28,00 On Sale
Maileg's baby mice twins in a matchbox (edition winter 2018-2019).
Double Trouble with new born twins. They cozy up together in their box to go to sleep and keep their mum on her toes during the day. One twin is wearing a striped onsie while the other is in a floral onsie.
The mice are great for encouraging the imagination and helps to develop fine motor skills when dressing them up or playing with the Maileg furniture range. The little matchbox mice make wonderful gifts – they are like a little play set in a box allowing you to take the fun where ever you go. They also make a great heirloom toy to pass down through the generations.
Product details:
Ages: 3 years +.
Size: Mice H. 8cm and matchbox 11x 8x 5cm.
Material: 100% cotton and cardboard.
The Maileg mice in boxes are very popular, especially when people are looking for a treasure to give as a gift. Real care has been taken in the design and making of Maileg toys and their attention to detail is wonderful and ensures that each mouse has it's very own character.