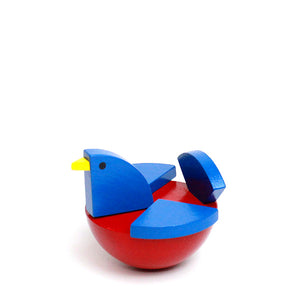 Kutulu The Wooden Dove – Tula
Regular price €25,00 €25,00 On Sale
1 left in stock
Red and blue dove Tula is a lovely wooden toy for story time and decoration.
Tulu has a swivel head and swings gently when she's happy.
Sweet wooden toy bird by Kutulu, a team of designers dedicated to reviving traditional Czech wooden toys, combining old world craftsmanship with beautiful contemporary design and sustainable practices. These friendly animal toys are made for story telling and imagination.
Product details:
Age: 3 years +.
Size: 8 x 7.5 x 9.5 cm (W x H x D).
Material: Solid beech wood, painted. Swivel head with hidden brass fitting.
Color: Red and blue.
Made in: Czech Republic.