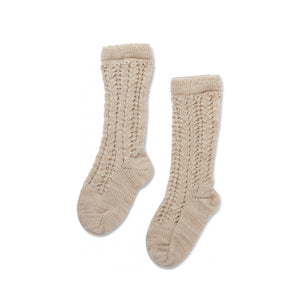 Konges Sløjd Wool Pointelle Socks - Creamy White
Regular price €24,00 €14,50 On Sale
1 left in stock
Konges Sløjd's pointelle socks are very comfortable and made of the softest wool.
Product details:
Material: 100% organic wool.
Washing instructions : 
It's not necessary to wash merinowool frequently. This fiber is selfcleaning. 

It's perfect to just air outside. 

Otherwise wash it very gently by hand with lukewarm water. 
Konges Sløjd is founded by Emilie Konge Breindal in 2014 in Copenhagen. 
Konges Sløjds design philosophy is to make stylish baby essentials, children's interior products and clothing in a sustainable way with high-quality, environmentally-friendly materials. All this to bring joy to the little ones and at the same time make visual sense to the parents.