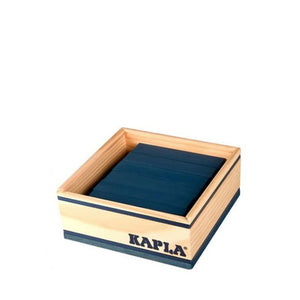 Kapla 40 Piece Wooden Building Set – Dark Blue
Regular price €17,00 €17,00 On Sale
Kapla 40 pieces dark blue in wooden box.
Kapla blocks are beautiful, elegant, versatile, and FUN!
With the coloured KAPLA gift boxes of 40 planks, you can give depth to your constructions. The magic of colour, associated with your building will add to the perception of your creations. Allowing you to play with volumes and embellish your creations.
Product details:
Age: 3 year +.
Size: Legendary precision and proportion at 15:3:1 (11,7 x 2,34 x 0,78 cm) makes building challenging constructions fun.
Material: Blocks made using French Pinus pinaster or maritime pine with high resin content, which makes the blocks resistant to mould and warping. Safe, natural, non-toxic and eco-friendly
Made in France and Morocco.
KAPLA was invented in 1987 by Dutchman Tom van der Bruggen who studied the History of Art and always dreamed of building a castle. Inspired by and having fallen in love with an old ruined farm on the Tarn River in the South of France, Tom van der Bruggen decided to fulfill his dream and set about converting the old farm into his dream castle, complete with carriage entrance, fountains and towers. To help him visualize the finished construction of his castle, Tom van der Bruggen used wooden blocks, but soon realized that they would not be suitable for certain aspects of the construction, such as the lintels, roofs and floors.
The idea to replace the blocks by wooden planks in one identical size with special proportions: 3 thicknesses for 1 widths and 5 widths for 1 length proved them to be the most suitable to construct without any fixation.
In 1987, he decided to make a new construction toy of his find. He called it "KAbouter PLAnkjes" which means "gnome planks" in Dutch.
Today, KAPLA enables builders to construct with the strength of stone and the precision of artwork.