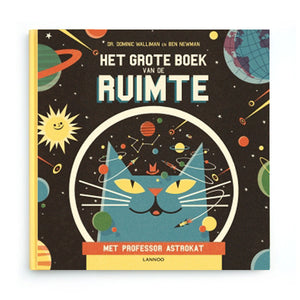 Het Grote Boek van de Ruimte by Dominic Walliman - Dutch
Regular price €19,00 €19,00 On Sale
Beautifully illustrated and full of fun and fascinating facts
Professor Astrokat is the smartest cat in the world. He knows everything about stars, planets and the universe. He takes you on an impressive journey and gives an answer to all your questions. What do stars consist of and how did they originate? How is a rocket built? What is a black hole? Is there life on other planets? What are satellites?
Product details:
Recommended for ages 4 years +.
Author: Dominic Walliman.
Measurements: 1,4 x 29,8 x 29,7 cm.
Language: Dutch.
Pages: 64.