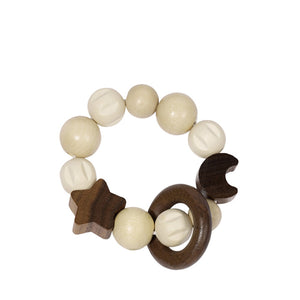 Heimess Nature Touch Ring – Moon and Star
Regular price €6,50 €6,50 On Sale
1 left in stock
Natural wooden touch ring moon and star by Heimess.
This beautiful Heimess touch ring, with the addition of a gorgeous moon and star, is designed to stimulate your baby in the early months. It has safe movable parts that allow your baby to explore.
The Heimess Nature collection fulfils the consumer's wish for high quality wooden toys. For the Heimess Nature products they only use wood exclusively from ecologically sustainable local forestry. Heimess Nature wooden toys are suitable for babies with allergies and immune deficiencies. The sturdy cardboard packaging is self-service-friendly and contains no plastics.
Product details:
Age: 0 year +.
Size: ∅ 8.5 cm.
Material: Wood.
Made in: Germany.
Heimess baby accessories and toys have been "Made in Germany" for over 50 years. Heimess baby accessories and toys are tested both internally and externally (GS mark for Tested Safety) for resilience and safety. Heimess toys meet strict European safety norms: EN71-1 (2005) and A4 (2007) for toys and EN12586 (2007) for babies' chains.