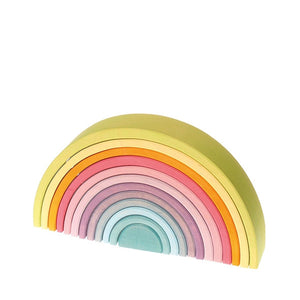 Grimm's Pastel Rainbow – 12 Pieces
Regular price €76,00 On Sale
2 left in stock
Kids and adults of all ages are instantly drawn to this unique, inviting Pastel Rainbow.
Like all of Grimm's wooden stackers, this wonderfully versatile toy has endless possibilities: Toddlers like to stack, sort and build with it. As children get older, they will use it as a cradle for dolls, fences for animals, as a tunnel or bridge for vehicles, as house for dwarfs or dolls, and so much more! Since it can be integrated into endless imaginative fantasy and pretend play scenarios, you'll be repeatedly surprised at the amazing sculptures kids will make! This heirloom-quality toy will grow with your child. It is durable; with proper care it can easily be passed down to another family or the next generation.
Even when not in use, its color and beauty makes this a lovely artistic or decorative piece for a shelf or table.
Look for all four styles of Grimm's 12-Piece Rainbow Tunnels, including Monochrome (Black & White) and Natural.
Product details:
Age: 0 months +.
Size: 18cm in height, 38cm in length.
Material: Lime wood, non-toxic water based color paint. All colors are water based and in accordance with EN 71, are harmless to your health and suitable for children toys.
Care: If you clean this product only use a damp cloth. Please do not submerge in water and do not use disinfectant or hot water.
This product is recommended by "spiel gut" (good toy guide).
Also available Pastel Rainbow  – 6 Pieces.
Grimm's is a family driven and sustainable managed manufacturer since 1978, producing safe and high quality toys at the foot of the Swabian Alb in Germany. In product development and design, they are guided by Waldorf education and other reform pedagogical approaches such as Montessori. Their more minimalist approach in designing toys leaves plenty of room for the development of children's fresh creativity. New fantastic worlds can be continuously created, keeping pace with children's natural, healthy development.
Children and adults alike are drawn to the brilliant colors and beautiful unvarnished wood surfaces. The bright color glaze and plant based oils preserve the living surface of the wood in structure and feel. The result is a typically rough yet velvety wooden surface which contributes to greater play value, especially for building components.