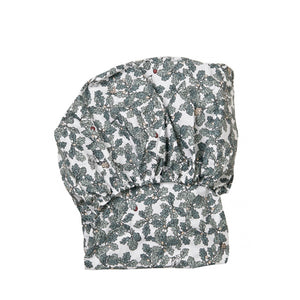 Garbo and Friends Fitted Sheet – Woodlands
Regular price €45,00 €45,00 On Sale
With Woodlands we are once again back in the forest where we love to spend our time. Up in the treetops amongst the crisp green leaves, the birds and well, maybe a burgundy apple or two. Nature truly is an endless source of inspiration that can spark the imagination.
Garbo&Friends fitted sheets are made in 100% OEKO-Tex certified Portuguese Cotton Percale with an elastic hem that wraps around the mattress, easy to put on, stays put during use and easy to take off when its time for laundry. Ethically made by skilled craftsmen in Portugal.
Available in 2 sizes:
Junior: 60×120×20 cm
Adult: 90×200×30 cm
Product details:
Material: 100% cotton percale with an elastic hem.
Care: Wash on gentle cycle 40°C, hang dry, do not tumble dry, iron on medium heat.
Made in Portugal.
Garbo & Friends creates for our tiny heroes of the unspoken imagination, the masters of bitsy big exploration and conquerors of all our good intentions. When it comes to childrens accessories, products that inspire the unspoilt fantasy and suits the style conscious parent.
Garbo & Friends want to offer both parents and their babies, the best textile and accessory products through design, print, fabric, material and detail. As they see it there are often two sides to what you want for your baby, and what you want for your home. That is why the majority of their products have just that, two sides, a beautifully illustrated patterned side, and a solid colored side in carefully selected colors. Whether you are looking for a crib bumper, a duvet set, a cashmere blended blanket or a floorcushion, you will find a product that both you and your baby will love.