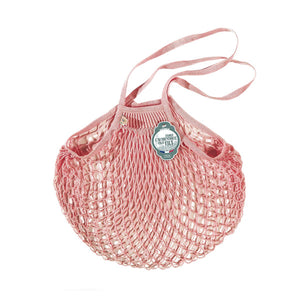 Filt Net Bag Rose – Long Handles
Regular price €13,00 €13,00 On Sale
Net bag with long handles by Filt.
A compact reusable shopping bag made from 100% knitted, mesh cotton that greatly expands to tote bundles of fruit, vegetables and other groceries home from the market. These deceptively durable bags will fold neatly into a handbag or backpack and stretch to hold a wide array of goods. French Filt market bags have been used for generations and have stood the test of time due to their reliability.
Each bag is strong, expandable, practical, sustainable and ecological. The cotton fibers are natural dyed using Oeko-Tex 100 standards then knitted and stitched in Caen, France.
This long handle version easily slips over your shoulder for ease in carrying heavier loads.
Product details:
Size: 40 by 40cm, handle 30cm.
Material: 100% Cotton.
Color: Rose.
Care: Cold machine wash.
Made in: Normandy, France.
View all Filt products here.
Filt is a small company in Normandy (France) who has been specializing in the manufacturing of nets for fishing, hammocks, and sports since 1860. Historically these bags were used by generations of mothers and grandmothers as a traditional market bag. They stretch to fill a wide array of groceries and good and can support an extreme amount of weight. They are dyed in the North of France and then they are knitted and sewn in their factory in Caen.