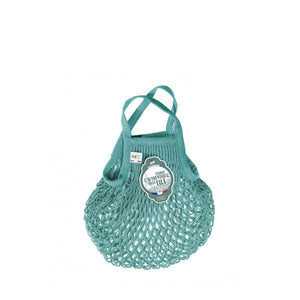 Filt Net Bag Aqua Blue – Child
Regular price €10,00 €10,00 On Sale
1 left in stock
Original string bag for children by Filt.
They can use them at the beach collecting shells, at home while playing kitchen or to accompany you to the market. Also an original idea for Christmas or for Easter to preserve their found Easter eggs.
Each bag is strong, expandable, practical, sustainable and ecological. The cotton fibers are natural dyed using Oeko-Tex 100 standards then knitted and stitched in Caen, France.
Product details:
Size: 25 by 25 cm (without handles) – 35cm (with handles).
Material: 100% Cotton.
Color: Aqua blue.
Care: Cold machine wash.
Made in: Normandy, France.
View all Filt products here.
Filt is a small company in Normandy (France) who has been specializing in the manufacturing of nets for fishing, hammocks, and sports since 1860. Historically these bags were used by generations of mothers and grandmothers as a traditional market bag. They stretch to fill a wide array of groceries and good and can support an extreme amount of weight. They are dyed in the North of France and then they are knitted and sewn in their factory in Caen.