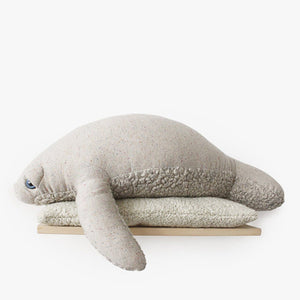 BigStuffed Sand Manatee - Big
Regular price €135,00 On Sale
Bring the wonders of the deep blue ocean close to home with the magnificent BigStuffed Sand Manatee. 
This beautifully handmade soft toy will be a favourite for years to come and as an added bonus they also look fantastic around the house.
Product details:
Label : CE ( european safety standard) suitable for all ages.
Size: 60cm approx.
Material: Top: 100% Cotton. Bottom: Fake fur. 100% polyester filling. Eyes : plastic safety eyes approved by EU norms.

BigStuffed High-end brand of big size innovative stuffed creatures for children with an aesthetic appreciation for adults. BigStuffed soft toys are 100% hand crafted in France.