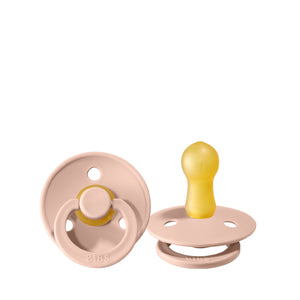 Bibs Classic Round Pacifier – Blush
Regular price €3,90 €1,95 On Sale
8 left in stock
When it comes to dummies, BIBS Colour is a real classic.
The dummy with the traditional round shield and the cherry-shaped dummy part has been comforting Danish infants for nearly 50 years.
BIBS Colour is a serie of cherry-shaped natural latex pacifiers especially developed to soothe and comfort the baby while supporting its instinctive need to suckle.
The cherry-shaped (round) pacifier is more similar to the breast than other type of dummy. The nipple is produced from natural latex, a 100% natural material. Natural latex is at the same time durable, velvet soft and exible. The vented collapsible nipple makes it easy for a child to squeeze the air out of the dummy, in which the dummy imitates the breast during suckling.
The shield is made of polypropylene (PP), which is a robust and lightweight plastic material. It is gently outwards curved to prevent skin irritation. It is equipped with air holes and a security handle.
BIBS Colour comes in several varieties:
Size 1: 0-6 months.
Size 2: 6-18 months.
Size 3: 18 months+.
We sell size 2 as this size is suitable for most newborns and can be used until a pacifier is no longer needed.
Product details:
Color: Blush.
Size: 1 (0-6 months)/ 2 (6-18 months) / 3 (18 months+).
Dimension: Nipple length: 3 cm/1.18 inches, nipple diameter (tip): 1.5cm/0.59 inches, nipple diameter (base): 1cm/0.39 inches and shield diameter: 4.5cm/1.77 inches.
Material: Nipple material: 100% latex/natural rubber and shield material: polypropylene (PP).
100% free from BPA, PVC and phthalates.
Fulfills the European standard: EN 1400+A1.
Storage:
Pacifiers should always be kept dry and protected from dirt, eg. in a closet or a pacifier box.
Avoid placing the pacifier in direct sunlight and heat as this may weaken the natural latex. Also so not store the dummies in disinfectant/sterilizing liquid, which can act the pacifier's durability.
Cleaning:
Before each use, the pacifier should be sterilized shortly by pouring boiling water over it.
Before using the pacifier for the first time, put it in boiling water for 5 minutes. Since it has a vented nipple, liquid will enter into the pacifier. When the pacifier has cooled, the water is pressed out of the nipple to ensure hygiene.