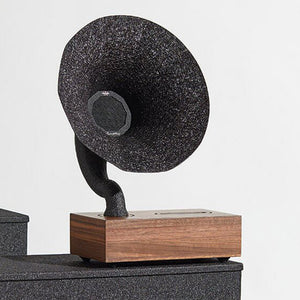 Acoustibox Acoustic Smartphone Amplifier – Special Edition - Walnut
Regular price €179,00 On Sale
A special edition of the Acoustibox Acoustic Smartphone Amplifier. Together with Wooden Amsterdam they created a special edition of the iconic metal horn. 
Amplify your smartphone with Acoustibox: an acoustic amplifier is inspired by the phonograph and gramophone that combines retro with today's technology. This special Wooden Amsterdam variant has a walnut base. Place your smartphone in the wooden dock to enhance the sound. Due to the iconic metal horn in combination with the wooden dock, a warm and full-bodied sound is produced to boost the volume. Just sit back and let the music take you back to another century.
Product details:
Size: 24.5 x 15 x 40 cm.
Material: Metal & Walnut wood.
Compatibility: All phones with speaker located at the bottom of the phone.
Warranty: 1 year.
Acoustibox is designed in Turkey by a team that not only has a passion for music but also for designing it. Inspired by the phonograph that was introduced by Thomas Edison at the end of the 1800s, Acoustibox emerged as a result of the adaptation of retro to today's technology. It was designed with pure acoustical principles that gives it the ability to boost the volume level up to three quadrants.