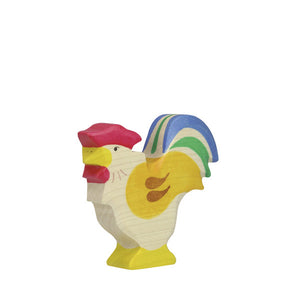 Holztiger Rooster
Regular price €8,00 On Sale
6 left in stock
Cock-a-doodle-doo!
Children will love it when this handsome rooster joins their toy farm. This hand-crafted hardwood rooster is of amazing quality with a beautiful wood grain that makes up his plumage, with water-based colour used to add bright details, from his bright red comb to his fluffy yellow wings and flamboyant green and blue tail feathers.  He's perfect for playing with in the coop or out on the grass and will be sure to guard the hens from Mr Fox. He is the perfect gift for any young farmer building their flock. A great addition to any small world play scenes and as a story prop.

Handmade of maple and beech wood, painted with non-toxic water-based paint, these are heirloom toys that will be loved for generations. Rounded edges for a smooth and gentle feel.
Product details:
Age: 3 years +.
Size: 8.5 x 7.5 x 1.8  cm ( w x h x d ).
Material: Maple and beech wood.
Made, polished and painted by hand with water-based paint.
Origin: Made in Europe.
Holztiger makes one of the best quality and most comprehensive ranges of wooden animals anywhere in the world. Hand made from Maple and Beech grown in southern Germany they make a quality addition to any toy box.